Liebster!
When I found out I was like, "Wow, that's really cool! Wait, what's a Liebster award?!"
So I looked it up and went to read Leah's nomination post. Basically, a Liebster award is like a chain letter posted on your blog instead of an email. You respond to the questions by the person who tagged you and you tag others with a new set of questions you create for them. It's an easy way to learn more about another blogger and introduce other blogs as well.
Rules:
1. Post eleven facts about yourself
2. Answer the eleven questions provided by the person who nominated you, and then create an eleven-question set for the next group of nominees
3. Choose eleven people to nominate and link them in the post
4. Let your nominees know they've been tagged- and no tag-backs!
5. Nominate blogs under 200 followers
Facts About Patricia
2. I've been wearing glasses since the 5th grade.
3.
I don't know how to ride a bike. I survived 23 years without learning how and if you're wondering, yes, my childhood was normal.
4.
I'm a Filipina with an American English accent.
5. Growing up, I wanted to be a teacher and/or work for a magazine.
6. I prayed The Sinner's Prayer A LOT when I was in high school. Needless to say, my relationship with the Lord was whacked during that season.
7. I taught myself to play the guitar and I could play the drums by ear (I'm not good though, trust me. I would have to repeat a pattern over and over again before I could actually play it).
8. Martin Luther and Karl Barth are two of my favorite theologians.
9. In grade school, I always visited the library during lunch break with my best friend.
10.
I know a bit of judo. There are days when I'd watch UFC just for the heck of it.
11. I'm a huge Star Wars fan.
Questions from Leah:
1. Why do YOU blog?
I think better when I put my thoughts down on paper or in this case, a word processor.
I blog to remember, to tell stories, and to process life.
2. What is your favorite book? Why?
My answers to this vary. For now I would say
Thomas à Kempis'
The Imitation of Christ. It's a classic devotional that I could read every day after Scripture.
3. What is your life goal? What is the one thing you want to accomplish before you die?
I aim to hear these words from my Lord: "Well done, my good and faithful servant."
I want to have "spiritual babies" with my husband-to-be and if the Lord should give us biological children, I want to disciple them and see them grow into the individuals God intended them to be.
4. What is your favorite recipe?
I'm currently in love with Korean chap chae. So flavorful!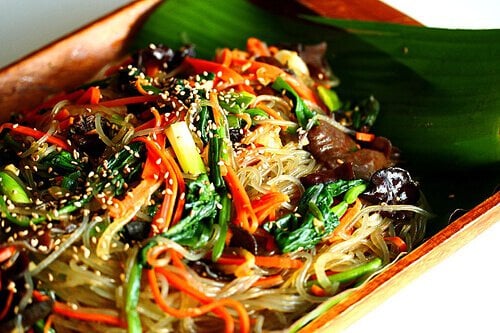 Photo from steamykitchen.com
5. What do you have as your phone background?
The latest lock screen from She Reads Truth! (Micah 6:8) I have it on my iPad and not my phone though. My Android's background is just a wallpaper that came with the phone.
6. Describe the best dessert you've ever had. Why was it the best? What added to the overall experience?
I like a local dessert called "buko pandan." Buko is Tagalog for coconut. Buko pandan is made with young coconut meat, condensed milk, cream, eggyolks, jelly cooked in water (boiled with pandan leaves), and nata de coco or tapioca. The aroma from the pandan hits you first and invites you to dive right in. It's not as sweet as your regular fruit salad (although the sweetness would depend on the person making it). It's a simple dessert that's like a hybrid of ice cream and salad.
The aroma and texture also make it interesting for me.
Photo from http://tenthousandthspoon.blogspot.com/2013/08/buko-pandan.html
7. What's your idea of romance?
Kimchi Taco and I talking for hours under the night sky, sharing a blanket as the evening breeze blows, M83 playing in the background.
Romance to me would also be a lifetime of pursuing each other even as the seasons of life change us.
8. How long have you been blogging?
I started blogging sometime in 2009. I was in high school (hello teenage angst, confusion, and bad writing!) and I learned some codes by trial and error. I was also able to connect with mostly Filipino bloggers and that drew me to pursue blogging even more, knowing that I can make friends through it. I've made some long-lasting connections with people through my old blogs even though I'm yet to meet them. I've registered numerous blogs in the past in Blogger, Wordpress, and Tumblr but I never had structure when it comes to content and design. It's been about two years since I decided on my Gentile Next Door moniker and about a month since I re-launched my blog here on Blogger.
9. Do you have a favorite scripture? What is it?
"But whatever gain I had, I counted as loss for the sake of Christ.
Indeed, I count everything as loss because of the surpassing worth of knowing Christ Jesus my Lord. For his sake I have suffered the loss of all things and count them as rubbish, in order that I may gain Christ
and be found in him, not having a righteousness of my own that comes from the law, butthat which comes through faith in Christ, the righteousness from God that depends on faith—
that I may know him and the power of his resurrection, and may share his sufferings, becoming like him in his death,
that by any means possible I may attain the resurrection from the dead." - Philippians 3:7-11, ESV.
This could even be another answer to the life goal question above :)
10. If you had to give up something for the rest of your life, what would be the hardest thing to give up?
Physical contact with other people. My top love languages are quality time and physical touch so to have these taken away would make me wither.
11. If you could meet anyone, dead or alive, who would you meet?
Dead: C.S. Lewis or G.K. Chesterton. I would love to experience their British wit and intellect firsthand.
Alive and refuses to die: Bear Grylls.
My questions for YOU:
1. What is your favorite childhood memory?
2. If you could trade places with anyone, who would it be and why?
3. What makes you angry or what makes you upset?
4. Do you support any organizations or causes? Who/what are they?
5. How do you cope with stress?
6. What are your love languages?
7. What is inside your bag right now?
8. If you only had one day to live, how would you spend your last 24 hours?
9. What would be your go-to weapon in a zombie apocalypse? (Bonus: How long do you think you'd survive?)
10. What would you say to your 10-year-old self today?
11. What is the most difficult part of Scripture that you had to wrestle with?
Nominations:
Rebecca || http://barefootthunder.com
Fallon || http://wavesofgraceblog.blogspot.com
Leelee || http://leeleefindsherself.com/blog
Thanks for the tag, Leah! And for the rest of you guys, I hope you get to check out these sweet ladies nominated above. Have a great weekend ahead!
- Patricia